While I was in the process of finding my own personal style of creating steampunk art jewellery, a friend asked me if I had any intention of using genuine precious gemstones in my designs. So far I had been using some ordinary glass rhinestones in a few of my creations, but not really given this any further thought. I am a self-educated artisan jeweller and I thought that the use of genuine stones might be a (costly) step too far for me. However, my friend did not let go of the idea and every time I saw her, she asked me the same question. That encouraged me to look deeper into the possibilities. I gathered a lot of information on the various types of precious stones and crystals, as well as how they could be used and how I could possibly finance this. I discovered that there were indeed gems and crystals that would definitely make a positive difference when added to my jewellery and also, that you do not always have to start with real expensive diamonds.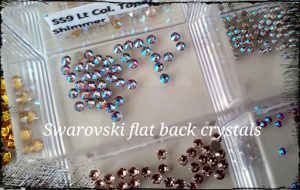 I started using Swarovski crystal rhinestones instead of the cheaper glass stones; a fine decision! I love how Swarovski crystals give an extra dimension to the beauty of my handmade jewellery items. Daniel Swarovski's vision was to make "a diamond for everyone" by making crystals affordable for a much wider audience than ever before. It is my personal vision to make unique steampunk jewellery that is affordable and can be worn by anyone at any time. I think these two vision go hand in hand in the designs of Gwendolyne's Steampunk Gems.
Daniel Swarovski was born in Georgenthal bei Goblenz (Jiřetín pod Bukovou) on 24 October 1862. His place of birth was situated in northern Bohemia, which is nowadays in the Czech Republic, but at that time was part of the Austrian Empire and situated about 20km from the Polish border. Swarovski was the son of a glass-cutter, who owned a small glass factory. He served an apprenticeship with his father, where he learned the art of glass-cutting. Later he went to both Paris and Vienna for further education and at the 1883 Electricity Exhibition in Vienna he got interested in the possibilities and phenomenon of electricity. In 1892 he patented an electric cutting machine, that facilitated the production of lead crystal glass. In 1895 he immigrated to Wattens, in Austria, and founded a crystal cutting factory together with his friends Armand Kosmann and Franz Weis: "A. Kosmann, D. Swarovski & Co.", shortened to KS&Co. The three men decided for the factory to be situated in Wattens, in Tyrol, because this location would give them the advantage of local hydro-electricity for the energy-intensive grinding processes that Swarovski had patented.
In 1887 Daniel Swarovski married Franz Weis' sister Marie Weis. They had three sons together: Fritz, Alfred and Wilhelm. The youngest one became very important for the start of Swarovski Optik KG later in life. Daniel Swarovski died on 23 January 1956, aged 93, in Wattens. That was also the year that the Swarovski company introduced and started mass-producing their famous "Aurora Borealis" glass. There is still a sculpture of Daniel Swarovski in the town of Wattens today as a memorial to him as a person and regarding how important he was for the town itself.
The original Swarovski logo, that was first introduced in 1895, was that of an edelweiss flower. This was also the time when the company expanded to France, where it was known as Pierres Taillées du Tyrol ("Cut Stones from Tyrol"). In 1919 Swarovski brought the grinding and polishing tools into a different market by founding the company Tyrolit. Tyrolit was and still is a manufacturer of grinding, sawing, drilling and dressing tools, as well as a supplier of tools and machinery. In 1935 Daniel Swarovski's youngest son Wilhelm created a custom pair of binoculars, which led to the start of Swarovski Optik KG in Absam, Tyrol (Austria) in 1949. This company produces optical instruments, such as binoculars, telescopes and telescopic sights for rifles. Hence, the Swarovski company grew and is now split into three major industry areas of which the Swarovski Crystal Business is the one that primarily produces lead glass jewellery (or crystal jewellery) and crystal accessories.
The Swarovski Group includes Tyrolit; Swareflex (reflective and luminous road markings); Signity (synthetic and natural gemstones) and Swarovski Optik. It is one of the highest grossing business units in the world with a global reach in around 170 countries worldwide. The company even has a crystal-themed museum in Wattens (near Innsbruck, Austria), called Swarovski Kristallwelten (Crystal Worlds). This museum is the second most visited tourist attraction in Austria. It was built in 1995 in celebration of the 100th anniversary of the company.
Whilst the company logo started in 1895 with the logo of an edelweiss flower, this was later replaced by an S.A.L. logo (Block SC 1976-1988), which was replaced again in 1988 with their current logo of a swan. The latest logo represents the exquisite beauty, style and elegance of Swarovski crystal products.
In 2004 the Swarovski company released Xilion, a copyrighted cut designed to optimise the brilliance of Roses (components with flat back) and Chatons (round diamond cut view-side stones with no holes). The Xilion crystal glass was later replaced by Xirius, Swarovski's most brilliant and advanced patented cutting technology, X-Cut, combined with the latest lead and conflict-free crystal glass material, Advanced Crystal, and their enhanced foiling technique, Silver Mirror Finish. Xirius stones are sparkling crystals with exceptional durability and radiance. Crystal glass is produced by melting a mixture of quartz sand, minium (a mineral), potash and soda at a very high temperature. To create crystal glass that lets light refract in a rainbow spectrum, Swarovski coats its products with special metallic chemical coating and cuts it with special techniques. The Xilion crystal glass components are ideal for making professional-looking fine jewellery. The stunning stones contain extremely precision-cut facets and produce a brilliant finish, which resembles a brilliant diamond more closely than ever before.
Nadja Swarovski, the great-great granddaughter of Daniel Swarovski, is a member of the Swarovski executive board and leads the global brand strategy and communications of the Swarovski business. She also heads up the company's sustainability strategy, the Swarovski Waterschool community investment program and she is the Chairperson of the Swarovski Foundation. Hence, Swarovski is still a family-owned business since it was founded by Daniel Swarovski in 1895. A sparkling company in many ways.
Gwendolyne Blaney – Gwendolyne's Steampunk Gems
References
Wikipedia – https://en.wikipedia.org/wiki/Daniel_Swarovski – "Daniel Swarovski"